Leading lease technology meets expert services for a complete lease management and accounting solution for FASB ASC 842 reporting.
By combining Blue Sky Capital's trusted services and Visual Lease's reliable software solution, these two organizations provide an end-to-end solution for the adoption of the new lease accounting standard ASC 842 for their clients while delivering substantial savings (typically 20%) on the total cost of the lease contracts.
Real-time market intelligence and advisory services

What exactly is this "end-to-end" solution?
Centralized lease database
Lease financial and tax reporting
Blue Sky's seasoned lease advisory professionals develop and implement financing strategies on behalf of a diversified customer base. This ranges from the Fortune 500, middle market, nonprofits and municipalities. Blue Sky's expertise includes:
Management of lease documentation to ensure all leases and their terms are abstracted, tracked and saved

Real-time market intelligence and GPO leverage

Lease optimization strategy, lease vs. buy analysis, budgetary portfolio, reporting for financial planning and analysis
Visual Lease makes easy-to-use software to help organizations manage and account for their leases, and stay compliant with US-GAAP, IFRS and GASB lease accounting standards.
Developed by industry-leading lease professionals and CPAs, Visual Lease empowers businesses with:
Complete visibility and control of every lease in one centralized repository for ongoing, accurate lease data

Fully configurable fields, workflows, processes and reports to handle every business need and lease scenario

Automated journal entries, disclosures and footnotes to confidently account for every required calculation and remeasurement
The benefits of this alliance solution
Reliable lease accounting and administration technology

Data-centric, skillful lease abstraction expertise

Professional support team committed to your success

Thought leadership, expertise and dedicated resources that deliver strategies for immediate and long-term savings

Implementation of these strategies and tools typically results in 20% savings on the equipment lease contracts.
Account for every lease in one system for ongoing compliance

Complete confidence in the accuracy of your lease data

Stay compliant and in control, proven by our 99% customer retention rate

Receive robust functionality that continuously improves and adapts to your needs
Get Equipped to Master Your Equipment Leases
Introducing carbon accounting & ESG reporting

We're thrilled to announce a new product designed to help organizations manage, measure and report on the environmental impact of leased and owned assets: VL ESG Steward™!
VL ESG Steward is designed to be an accurate and transparent solution for consumption data, carbon emissions and ESG reporting at an asset level, enabling better decisions for your clients' asset portfolios and their sustainability strategies. It's a single source of truth for energy, water, waste, emissions and biodiversity data and a powerful carbon calculator in full compliance with the Greenhouse Gas Protocol.
Visual Lease is the #1 lease optimization software provider. We help organizations become compliant with FASB, IFRS and GASB lease accounting standards, while simultaneously improving the financial, legal and operational performance of their leases. Our easy-to-use SaaS platform is embedded with more than three decades of best practices from major corporations and leading industry professionals.
Our award-winning solutions are used by 1,000+ organizations to manage 500,000+ real estate, equipment and other leased assets. Committed to ongoing innovation and unparalleled customer service, Visual Lease helps organizations transform their lease compliance requirements into financial opportunities.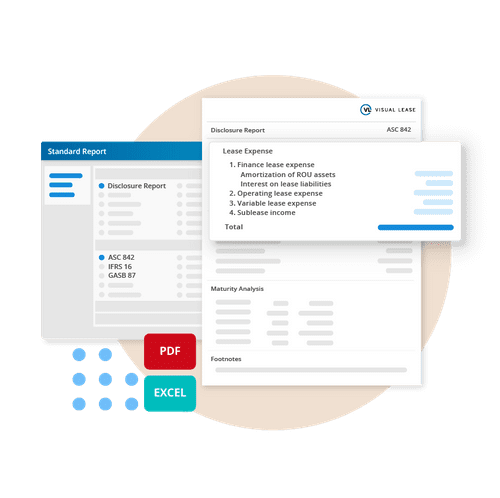 2022 © Copyright Visual Lease.
All Rights Reserved.